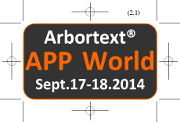 Arbortext APP World (3B2) Users' meeting 2014
London UK event review
---
Event Review
Thank you to everyone who joined us for this years event.
Without support from Arbortext and APP users' and our excellent speakers, it would not be feasible for us to continue independently organising and hosting such events.
28 people, from 23 companies in 8 different countries joined us in London for this years user event for what was the most technically minded, open and relaxed event to date.
Products such as Arbortext and in particular APP can be tailored and adapted for use in so many different industries and types of publishing solutions. So finding relevant and interesting content to present at a user orientated event can be a challenge. This year was heavily technical ranging from topics on user Interface right through to heavily automated API scripted demonstrations.
Feedback was overwhelmingly positive from everyone that attended.
A small event gallery is at the foot of this page.
I look forward to welcoming everyone again the next time.
Regards
Chris Western
CEO tformat ltd.
---
Overview
Arbortext Advanced Print Publisher (APP), formerly known as the 3B2 Publishing System, has provided the core development environment behind the solutions to many complex and extreme publishing requirements for over 27 years. APP is also the default PDF/Print engine within the Arbortext products.
Our 4th APP World users' event gives the opportunity to:
Discover the potential from new and updated Arbortext products.
Learn new technologies and APP (3B2) application methods.
Have your Arbortext and APP questions answered.
Meet with other publishing professionals and Arbortext / APP (3B2) specialists from the world wide community.
Content highlights include
Arbortext & APP product roadmap 1:
Where we are now.
Simon Taylor, Product Manager PTC
Arbortext & APP product roadmap 2:
What is coming and future plans update.
Simon Taylor, Product Manager PTC
Using the JavaScript Print driver for custom HTML output + ePub from Arbortext APP.
Richard Jinks, Senior Developer PTC
Utilising JavaScript for additional functions in APP: Hyphenation, Contexts, Page events and some unseen extras!
Richard Jinks, Senior Developer PTC
Arbortext APP Perl Libraries, using the Codex Scriptorium and Support++ pocket guides.
Uwe Braun, Datacopy Publishing Solutions gmbh
Track 1: Custom colours and custom rules in Arbortext APP
Track 2: Custom markup and APP code in Arbortext Styler
Uwe Braun, Datacopy Publishing Solutions gmbh
Arbortext APP in PTC's product portfolio;
tformat and DATACOPY in PTC's partner scenario
Rainer Schmidt, CEO Datacopy Publishing Solutions gmbh
From user experiences to new markets and products?
Jaap Prummel, CEO J A P E S
Fonts and Font Handling in APP
Jaap Prummel, CEO J A P E S
Arbortext APP V10-11 template design techniques, common functionality methods, best practice ideas and live demos.
(double session)
Chris Western, CEO tformat ltd.
3 problems, 3 solutions. Mini demos of custom dynamic publishing requirements solved in APP.
Chris Western, CEO tformat ltd.
Getting the most from your Maintenance and Support++:
Web tools, licensing options, using FlexLM, Support++ resources & PTC community.

Chris Western, CEO tformat ltd.

See the current timetabled agenda. (25/08/2014)

Delegate packages
Full meeting programme of presentations and workshops over 2 days.
APP World conference materials, samples files and event Programme.
Break refreshments and buffet lunch on both days.
West London conference venue.
Free wifi access within hotel meeting room and lobby.
Full 2 Day attendance price £375.
1 Day Event attendance price £275.
(As this event is hosted in the UK registration prices are subject to 20% UK VAT/TAX).
(This event is organised and hosted by tformat ltd. for the benefit of Arbortext & APP (3B2) users' and is not sponsored financially by PTC or other parties.)
Venue
The event will held at the Holiday Inn, in Brentford Lock, West London.
The Hotel is located between Kew Gardens to the South and the M4 to the North.
This event was supported by speakers from our partners Datacopy Publishing Solutions gmbh, PTC product management and PTC product development.
Gallery
Previous events
See overviews of our previous 3 APP World events here: