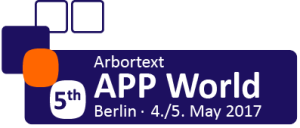 The agenda for the 2017 event will be focused around many aspects of document delivery and have sessions on new features and product roadmaps in the Arbortext suite including APP, Styler and PE. There will also be vertical solution demonstrations, the usual mix of technical developer sessions and introductions to new industry partner offerings for managers and technicians alike
Arbortext Advanced Print Publisher (APP), formerly known as the 3B2 Publishing System, has provided the core development environment behind the solutions to many complex and extreme publishing requirements for almost 30 years. APP is the default PDF/Print engine within the Arbortext product suite.
Our 5th APP World users' event gives the opportunity to:
Discover the potential from new and updated Arbortext products.
Learn new technologies and APP (3B2) application methods.
Have your Arbortext and APP questions answered.
Meet with other publishing professionals and Arbortext / APP (3B2) specialists from the world wide community.
The event is not restricted only to our customers and is open all.
Conference Agenda

APP World 4.-5. May 2017
From
Until
Description
Speaker

Thursday, May 4th
10:30
11:00
Registration and coffee
All
11:00
11:15
Welcome
Chris Western, Rainer Schmidt
11:15
12:00
DATACOPY and tformat: Ready to accompany
you into the future
Chris Western, Rainer Schmidt
12:00
12:45
APP Today and roadmap for the future. What we have now, recent additions and what's planned.
Simon Taylor, PTC
12:45
14:00
Lunch
All
14:00
14:45
New PTC technologies like Internet of Things, Augmented Reality: Was is in it for you?
Christian Zimmermann
14:45
15:30
Re-inventing APP Financial Typesetting and regulatory compliant document comparison for 2017
Chris Western
15:30
16:00
Coffee break
All
16:00
16:45
Arbortext and APP and complimentary products
APE with APP, Styler APP extensions, browser based editing.
Simon Taylor, PTC
16:45
17:30
Documenting custom code in APP V11.1
Jacques Tripoz, Jouve
18:30
19:00
Walk or drive to evening location
All
19:00
22:00
Dinner
All

Friday, May 5th
9:00
9:45
Developing APP templates in the IDE / debugger & moving away from the APP GUI
Simon Taylor
9:45
10:30
Best practice development approaches and toolsets, exploring contexts and object storage
Simon Taylor
10:30
11:00
Coffee break
All
11:00
11:45
Putting new V11.1 features to work
Chris Western
11:45
12:30
One day in the life of a technical writer
Erwin Müller, Rainer Schmidt
12:30
13:30
Lunch
All
13:30
14:15
Programmatic realtime parametrisation of classical 3B2 templates in context of the L42 Solution Cloud
Ulrich Stühle, STSE
14:15
14:30
Round up
Chris Western, Rainer Schmidt
14:30
15:00
Final coffee
All
The agenda may change and is subject to final confirmation by April 2017.

Delegate package
Full meeting programme of presentations and workshops over 2 days.
APP World conference materials, samples files and event programme.
Break refreshments and lunch on both days.
Evening Dinner on Thursday.
Central Berlin conference hotel venue.
Event price €490.
Event Venue
The event will held the NH Hotel on Friedrichstrasse in central Berlin, Germany.
The hotel is centrally located in the heart of Berlin, nearby "Checkpoint Charlie".
A limited number of € 119,- special rate rooms (single room including breakfast) are available to event guests wishing in the period 3 –  5 May 2017.
If you would like to book a room please contact the hotel via phone +49 30 2238 0233, Email: reservierungen@nh-hotels.com or online www.nh-hotels.de/event/app-world using the Code: "APP_World".
Please note that this is a special rate with limited number of rooms. It needs to be booked latest by 06 March 2017.
.
Registration
Please download the PDF from the link below to complete the PDF form and send your registration to the event.
Event contact

If you have any questions about this event please contact us at events@tformat.com.
This event is organised and hosted by TFORMAT Limited and DATACOPY publishing solutions gmbh for the Arbortext & APP (3B2) community and is not sponsored financially by PTC or other parties.